---
NetLogo example models.
Here you will find links to some interesting NetLogo models that are relevant to the course. The models library page has many more examples. All are well documented and you can run them directly in your web browser.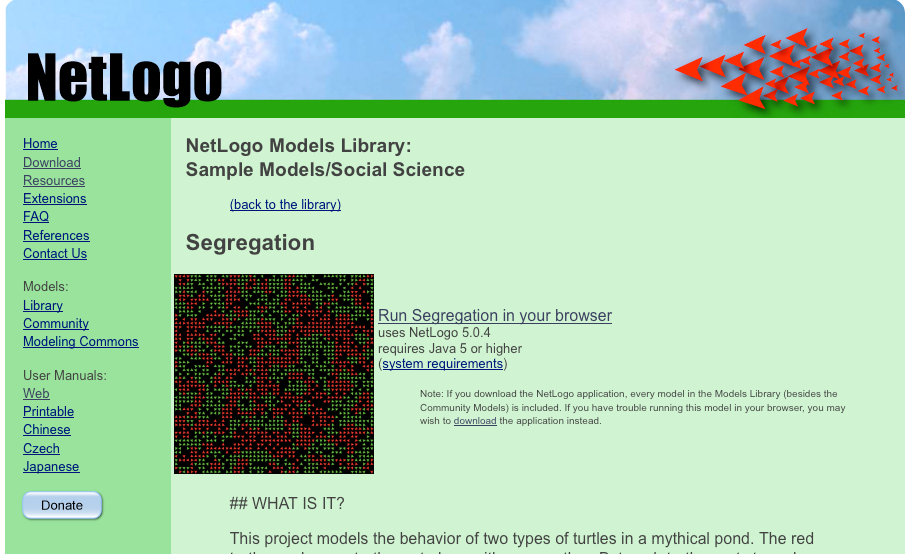 Segregation (Schelling)
Thomas Schelling's model of residential segregation is one of the earliest (the first?) examples of an agent-based model. Unable to access the computing resources that we take for granted today, Schelling's original experimented involved tossing a coin and moving pieces around a board. The model consists of a 2D environment (early experiments were actually 1D!) populated by households that belong to one of two types of racial group. A parameter dictates the percentage of the same group that each household wants to live next to. Households are able to move to empty squares if they are unsatisfied (i.e. they live near to too many of the opposite type).
The novel research finding was that, even with a relatively low preference for the same racial type, the environment can become highly segregated. This is particularly interesting because segregation emerges even though no individual has a strong preference for segregation. Potentially this provides an insight into the dynamics of human residential segregation.
Information about the model is here. To run the model in your browser, use this link.
More reading
The Journal of Artificial Societies and Social Simulation has a great description and discussion about the model.
The original papers:

Schelling, T. C. (1969). Models of segregation. American Economic Review, 59(2):488Ð493. PDF (hosted externally).
Schelling, T. C. (1971). Dynamic models of segregation. Journal of Mathematical Sociology, 1:143Ð186.
---
---