Google Maps: Display modes and further features
Google Maps offers a number of different map views. The available views vary depending on both country and location, with the best developed services being in the US. The UK data sets are not as extensive as those in the US, but have generally been strongly supported by Google.

A brief look at the Google Map Layout
Google's map system is reachable via URLs including http://maps.google.co.uk and http://google.co.uk/maps. Equivalent URLs exist for google.com, and for many if not all of Google's various international sites. These are broadly the same, although tend to be optimised for the appropriate audience. Thus, the maps available through http://maps.google.co.jp use Japanese characters for place names by default.

In 2014 Google Maps changed the look and feel of their product. There are two main views: the 'Map' view and the 'Earth' (satellite) view. The figure below shows a typical screenshot showing the default Map view.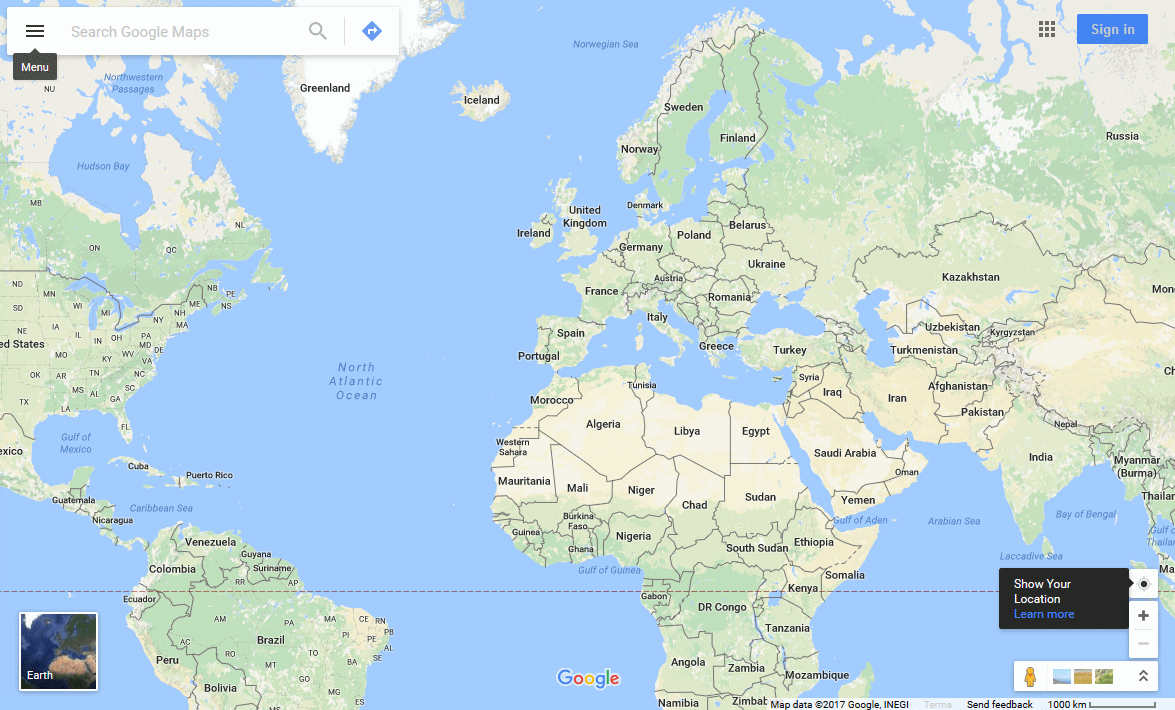 Google Maps Default View, Jan 2016
Note the search box at the top left, to the left end of which is a menu icon (label shown), and to the right end of which is a 'Directions' icon. The menu allows you to display various datasets, including "Terrain", on which, more later. Also note the thumbnail in the bottom left hand corner, which can be used to switch to the "Earth View".

Google Maps Earth View, Jan 2016: perhaps the best thing about this is the display of current weather formations.
In the bottom right hand corner of Map View are the following icons: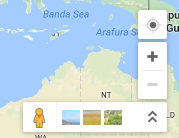 The small yellow person icon opens up the options for Street View and Photo Sphere. These are images that are both captured by GoogleVans of streets etc. and contributed images by users. Next to the yellow person icon, images show popular locations (it is not clear if these are generated through Google searches/ranking or are linked to advertising). If you click on this option at a global scale, you can see some obvious gaps in the coverage, such as China and North Korea. As well as being able to zoom in and out, Earth View allows you to tilt the maps for new perspectives (look under the "3D" icon near the yellow person).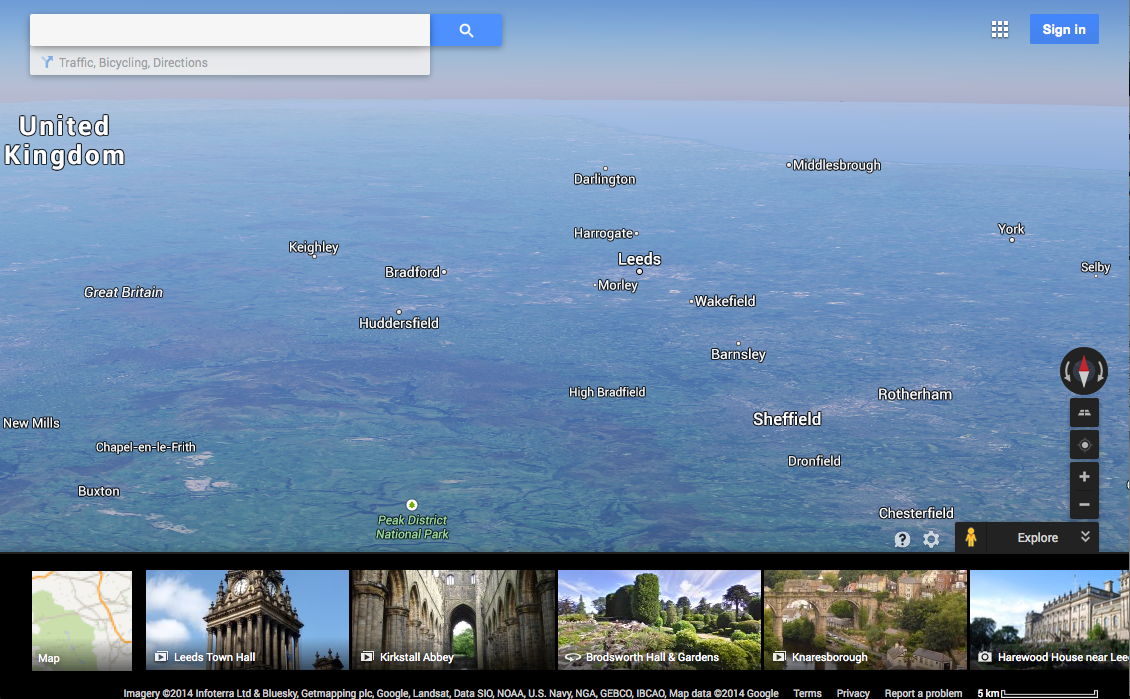 If you wish Google Maps to show and use your location (this allows them to customise directions and target services and attractions located near to you), you can click on the icon in the bottom right that looks like a compass.
Task: Bring up Google Maps and zoom to the world view.
Explore the Terrain and Directions box.
Have a look at the Street view and Photo Sphere options at global and local scales.
Allow Google Maps to "show my location". What changes?
---
[ Next:
Map View
]
[
Course Index
]
---