Overview
Key facts
UCAS code: L700
Start date: September 2019

Duration/Mode: 3 years full time
Typical A level offer: AAA
(specific subjects required)
UK/EU fees: See fees section below
International fees: £20,750 (per year)
Study abroad option: Yes
Work placement option: Yes
Our BA Geography course will teach you to explore how people interact with the world - such as how globalisation shapes the world, and the impact this is having in terms of urban development, population growth, sustainability, ethnicity, class and gender.
Studying human geography allows you to think about the kind of world you'd like to live in, and offers the skills to have a say in how future society develops.
Our graduates are in demand for both their specialist and transferable skills. You'll build skills in presenting your ideas in reports and orally, in data collection, presentation and analysis, and in the use of specialist mapping software.
Broad expertise and knowledge will equip you to tackle important real-world problems in a range of organisations and sectors, from the public sector (such as working for local government), to private industry (as a retail analyst or location planner) and for non-governmental organisations (such as Amnesty International as a policy and campaigns officer).
Extending this degree
You can convert your 3-year degree into a 4-year degree by spending an additional year on an industrial placement or overseas, before returning to Leeds to complete your final year of study.
Accreditation
This programme has been accredited by the Royal Geographical Society (with IBG). Accredited degree programmes contain a solid academic foundation in geographical knowledge and skills, and prepare graduates to address the needs of the world beyond higher education.
The accreditation criteria require evidence that graduates from accredited programmes meet defined sets of learning outcomes, including subject knowledge, technical ability and transferable skills.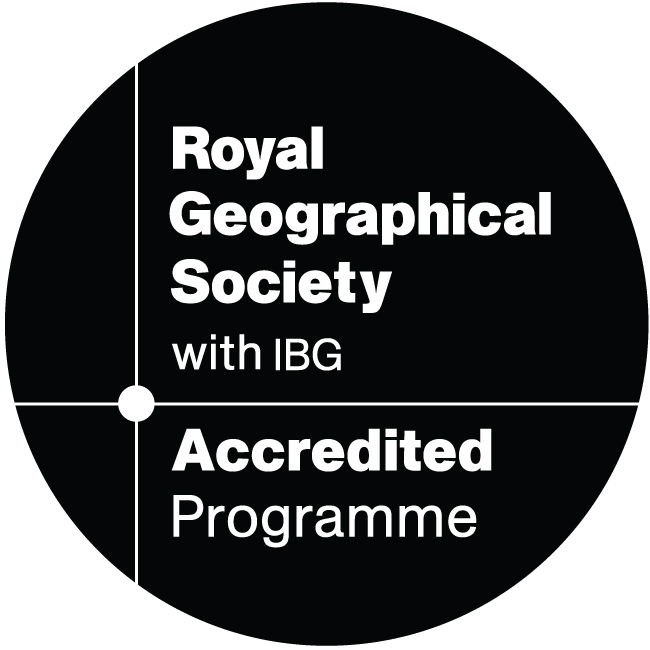 Accredited by the Royal Geographical Society (with IBG)
Rankings
Course terms and conditions
Course content
Each year of this programme is designed around a combination of compulsory core modules, as well as opportunities to take optional modules and/or discovery modules across the University so you can choose additional subjects of interest. The balance of compulsory and optional modules depends on the year and programme of study and is explained fully in the programme catalogue. If you study this programme part time you'll study fewer modules in each year. You will have a personal tutor all the way through your degree.
In year one, you'll develop a grounding in the core concepts and themes of human geography, plus key academic writing and digital learning skills. Core modules explore different geographies of a changing world, including economic globalisation, neighbourhood change, urbanisation and cities, migration, health, development, environmental management and sustainability. We focus on issues of justice, difference, identity, nature, space and place across different scales and ideologies.
In year two, you'll be provided with a core programme of research and career skills training that you'll supplement from optional modules that cover geo-politics and international development, service analysis and planning, economic geography, the development of modern cities, citizenship and identity, natural resource management, and sustainable transport.
In year three, you'll be required to undertake a significant independent final year project - currently a dissertation - alongside a suite of optional modules that cover subjects such as urban social movements, creating alternative futures, population and health geographies, location analysis, global insecurities, migration and encounter, and healthy transport. You will also have the choice of a research, work or teacher placement.
Course structure
These are typical modules/components studied and may change from time to time. Read more in our Terms and conditions.
Compulsory modules
Local to Global: Geographies of a Changing World

40 credits

Nature, Society and Environment

20 credits

People, Place and Politics

40 credits

Studying in a Digital Age (Environment)

5 credits
Compulsory modules
Career Skills in Geography

10 credits

Research Methods: Ideas and Practice in Human Geography

30 credits
Optional modules
Political and Development Geographies

20 credits

Service analysis and planning

20 credits

Geographies of Economies

20 credits

Helsinki: urban growth and sustainability

20 credits

Montpellier: urban and rural development

20 credits

Belgrade: urban and social geographies of a Balkan city

20 credits

The Making of the Modern City

20 credits

Citizenship and Identity: Comparative Perspectives

20 credits

Living within limits: natural resource management for sustainable development

20 credits

Transport Land Use and Development

10 credits

Transport, Energy and Environment

10 credits

Transport, Mobility and Safety

10 credits
Compulsory modules
Optional modules
Urban and Regional Development: A Case Study of Athens

20 credits

Global Cities: Buenos Aires

20 credits

Contested Cities

20 credits

Creating Alternative Futures

20 credits

Advanced Population & Health Geographies

20 credits

Management of Wilderness and Global Ecosystems

20 credits

Geocomputation and Location Analysis

20 credits

Geographies of Global Insecurities

20 credits

Environment, Conflict and Policy

20 credits

Workplace Co-operative Project

20 credits

Geographers into Teaching: School Placements

20 credits

Global Cities: Miami

20 credits

Research Placement

20 credits

Spaces of Migration and Encounter

20 credits

Travel Activity and Social Analysis

20 credits

Healthy Cities: Transport and Health

10 credits
For more information on typical modules, read Geography BA in the course catalogue
Broadening your academic horizons
At Leeds we want you to benefit from the depth and breadth of the University's expertise, to prepare you for success in an ever-changing and challenging world. This course gives you the opportunity to broaden your learning by studying discovery modules. Find out more on the Broadening webpages.
Learning and teaching
You'll learn through a mixture of lectures, tutorials (groups of six), seminars (groups of approximately 30), computer classes, lab practical classes, group-work, online exercises and fieldwork, depending on the modules you study.
Opportunities for extra help, including "drop-in" workshops, one-to-one assistance, and an extensive programme of generic skills training.
Part of studying at university is that you will take increasing responsibility for your own learning as you progress through your degree. Developing the skills to think and work independently is crucial to your success both at university and in your future career. Independent study involves a lot of reading around the subject, and although this may seem daunting at first, we will guide and support you.
Assessment
Assessment methods vary from module to module, giving you the flexibility to choose modules based on the assessment criteria that suits your particular strengths. Types of assessment include: examinations, individual or group reports and presentations, practical exercises, essays, posters, projects (such as the dissertation) and reflective logs.
Entry requirements, fees and applying
Entry requirements
A-level: AAA preferably including geography.
If Geography is not included then we would expect two A-levels from History, English, Economics, Sociology, a modern language, Psychology, Mathematics and Biology.
GCSE:
English and Mathematics at grade B (6) or above, or an equivalent English language and Mathematics qualification.
Alternative qualifications
Access to HE Diploma: Pass 60 credits overall with 45 credits at Level 3, 30 credits with Distinction and the remaining 15 credits with Merit or above.
BTEC: D*DD in Extended Diploma/3 Subsidiary Diplomas in Geography or two relevant subjects. We will accept a combination of BTECs and A-Levels. Please contact us for further information.
Cambridge Pre-U: D3, D3, M1 including Geography or two relevant subjects.
International Baccalaureate: 35 points overall, with 18 points at higher level to include 5 points in Geography or in two relevant subjects.
Irish Highers (Leaving Certificate): AAAAAA/H2H2H2H2H2H2 including Geography or two relevant subjects.
Scottish Highers / Advanced Highers: AABBB overall with AA in 2 Advanced Highers (AH). For non-AH applicants AAAAAA. To include Geography or 2 relevant subjects.
Read more about UK and Republic of Ireland accepted qualifications or contact the School's Undergraduate Admissions Team.
Alternative entry
We're committed to identifying the best possible applicants, regardless of personal circumstances or background.
Access to Leeds is an alternative admissions scheme which accepts applications from individuals who might be from low income households, in the first generation of their immediate family to apply to higher education, or have had their studies disrupted.
Find out more about Access to Leeds and alternative admissions.
Access to Leeds entry requirements for this course: ABB
International
We accept a range of international equivalent qualifications. For information contact the School of Geography Undergraduate Admissions Team.
English language requirements
IELTS 6.0 overall, with no less than 5.5 in any component. For other English qualifications, read
English language equivalent qualifications
.

Improve your English
If you're an international student and you don't meet the English language requirements for this programme, you may be able to study our undergraduate pre-sessional English course, to help improve your English language level.

How to apply
Apply to this course through UCAS. The institution code for the University of Leeds is L23. Check the deadline for applications on the UCAS website.
Read advice on how to apply on the School's website.
International students apply through UCAS in the same way as UK/EU students. Our network of international representatives can help you with your application. If you're unsure about the application process, contact the admissions team for help.
Read about visas, immigration and other information in International students. We recommend that international students apply as early as possible to ensure that they have time to apply for their visa.
Admissions policy
Faculty of Environment Undergraduate Admissions Policy 2019
Fees
UK/EU: See fees section below
International: £20,750 (per year)
For UK and non-UK EU full-time students starting in 2018, the fee for 2018/19 will be £9,250.
For UK and non-UK EU full-time students starting in 2019, the fee for 2019/20 will be £9,250.
The fee may increase in future years of your course in line with inflation, and as permitted by law. For example, the increase of 2.8% in 2017/18 was based on the government's forecast for the RPI-X measure of inflation.
The UK government has confirmed that non-UK EU students starting in the 2019/20 academic year will have home fee status and be eligible for UK government student loans. The UK government has not confirmed the situation for future years, so keep checking our website for updates.
If you take a study abroad or work placement year, you'll pay a reduced tuition fee during this period. For more information, see Study abroad and work placement tuition fees and loans.
Read more about paying fees and charges.
Additional cost information
Field classes are optional for BA students. We currently allocate £500 per student towards the cost of optional field trips across levels 2 and 3. Additional costs may be incurred.
Scholarships and financial support
We offer a range of scholarships.
If you have the talent and drive, we want you to be able to study with us, whatever your financial circumstances. There is help for students in the form of loans and non-repayable grants from the University and from the government. Find out more in our Undergraduate funding overview.
Career opportunities
In the School of Geography we take your future very seriously and know that employability is uppermost in many students' minds. If you choose to study geography at Leeds, you can be confident that you're not only joining a university whose graduates are targeted by top employers, but that as geography graduates, your employment opportunities couldn't be more exciting and wide-ranging.
We structure this programme to ensure you develop the key transferable skills sought by graduate recruiters, skills such as: team-working, commercial awareness, report-writing, fluency in oral communication and presentation, numerical analysis, IT expertise and investigative skills.
Here is a snapshot of the types of careers our graduates pursue:
Environmental management
Conservation
Land and water management
Public utilities
Management and consultancy
Transport planning and consultancy
Graduate training schemes in multinational companies
IT and business consultancy
Using GIS
Retail Planning
Direct marketing
GIS companies
Government and NGOs
Local government administration
Civil service (police, armed forces)
Regional and overseas development
Financial
Banking
Insurance
Financial services
Further study and training
Vocational Masters courses
PhD study
Teacher training/conservation courses
Careers support
We encourage you to prepare for your career from day one. That's one of the reasons Leeds graduates are so sought after by employers.
Leeds for Life is our unique approach to helping you make the most of University by supporting your academic and personal development. Find out more at the Leeds for Life website.
The Careers Centre and staff in your faculty provide a range of help and advice to help you plan your career and make well-informed decisions along the way, even after you graduate. Find out more at the Careers website.
Placement opportunities
Study abroad
You can convert your 3-year degree into a 4-year study abroad degree by spending an additional year overseas, before returning to Leeds to complete your final year of study. You don't apply directly to this course, instead you can register your interest with us once you've enrolled on the 3-year degree.
To be eligible for Study Abroad you'll need to maintain a good average in your assessments in years 1 and 2 and, for some destinations, you may have to show you have the necessary language skills.
Find out more at the Study Abroad website.
School of Geography partnerships
The School of Geography has long-established partnerships with a number of overseas universities who reserve places each year specifically for Leeds geographers.
European (Erasmus) destinations
Denmark: University of Copenhagen *
France: Université Grenoble Alpes
France: Université Paris Ouest Nanterre La Défense
Netherlands: Utrecht University *
Norway: University of Bergen *
Spain: Universidad de Valencia
*Starred institutions may offer a programme in English. Students may apply for department-specific or university-wide destinations. Academic suitability and language requirements should be discussed with your School Study Abroad Coordinator prior to application.
Worldwide destinations
Teaching takes place in English at all these universities:
The University of Waterloo, Ontario, Canada
The University of McMaster, Ontario, Canada
The University of Illinois at Urbana-Champaign
The University of Queensland, Brisbane, Australia
The University of Adelaide, Australia
The National University of Singapore
The Chinese University of Hong Kong
Find out more from staff and students in our study abroad video
Work placements
At Leeds our aim is to ensure our students thrive in their academic studies and leave us as highly employable graduates with a wide range of skills and attributes sought after in today's job market. Leeds is one of the few geography departments in the UK to offer a year in industry scheme which allows you to extend your three-year programme to a four-year industrial degree.
This is a fantastic opportunity to add value to your CV, experience the "real world" first-hand and, in many cases, be offered a permanent job with the placement company on graduating. With staff dedicated to helping you to secure a placement that is right for you, and by keeping in close contact with you throughout your placement year, we ensure you get the most out of your time with your chosen company.
You don't have to decide to do a placement year before you start your course, you can register your interest with us once you've enrolled on the 3-year degree.
Fieldwork
Ask any of our students and they will tell you that taking part in field trips is one of the most enjoyable and memorable aspects of the geography programmes at Leeds.
We offer field trips at each level of study and they provide a great opportunity to study a fascinating subject in contrasting environments away from the University. During the field trips you will learn essential fieldwork and team working skills, transferable skills that will prove invaluable to your future career. Field trips are also a fantastic way to travel and see new places and to get to know your tutors and other students better.